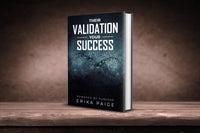 Powered By Purpose
We will face disappointments, but that does not mean we are defeated! Your purpose shall prevail as long as you remain true to it!
Empowerment

Helping others by sharing your truth
Women Helping Women

We all have a story to tell
Changing Lives

One Book At A Time
Empowerment
Helping others by sharing your truth
Women Helping Women
We all have a story to tell
Changing Lives
One Book At A Time
Testimonials
I gave this book 5 stars ! The Author was so transparent. It's so great and inspirational to have read such a positive outcome. Even after all of the turmoil that took place during a dreadful drawn out divorce! God bless.

Adryan
This book was a great read and a page turner. Once I started reading I could not put the book down. It is a testament to finding true love and happiness after getting a divorce. I definitely recommend this book!!

Renea K.
I love the book good job I love it and how your story is a stepping stone for so many that may be afraid to let go of the negative because of what comes alone with congratulations on finding happiness again I love it keep up the good work!

Shemeka McDonald
I really enjoyed reading this 📖. It was a good read.

Shamika Kent
A very good read. While every relationship is different, so are divorces. I learned a lot of things I didn't know about them with this book. Everything you go through is for a reason & only for a season. Stick to the course, keep praying, & you will make it through anything.

Alesha
I give this book 5 stars. I just purchased this book today and finished it today. Definitely a page turner and I appreciate this queen for sharing her story. So many women can use her book as a tool to guide them seek their own happiness no matter how hard their enemies try to block their blessings!!

Terriah Carver
From the start to the finish, I couldn't even put my book down. It was very interesting and informative of how two people decided it was enough in opposite worlds and found true love together. Life is about balance, communication, happiness and God's Plan. Please grab this book, you won't be disappointed. Lord thank you for this message. I have overcome.

Crystal C.
Awesome book so encouraging to know that what the devil means for bad God means for your good , Knowing that after a hurtful divorce or relationship there is BETTER if you just hold on and trust Jesus also it was a great pleasure meeting you in person may God continue to bless you and your family.

L.A.P.H.
About The Author
Erika Paige is a full-time wife, mother, and works as a Registered Nurse. She began her entrepreneurial endeavors, while going through a divorce from her first marriage, due to certain circumstantial financial obligations. Her first marriage, unfortunately did not end pleasantly, and left her in a financial bind. Determined to not allow it to get the best of her, she sought out an opportunity that she not only enjoyed but could benefit from! During this time, she realized there was so much more she could be doing to gain more sources of income, so she decided to give herself a shot and started her very own virgin hair vending company: Bundles of Finesse! This company was a success for her as she gained several customers, but it was not reliable nor steady enough to fulfill her everyday needs! It became a supplement to her income from nursing! After a couple of years in the hair business, she decided that it was time to act on a vision that was given to her, to simply share her story of her terrible divorce in hopes of helping someone to learn from her experiences. This led her to self-publish her very first book: "Not Easily Bothered: From A Vengeful Driven Divorce To A Much Happier Life"!
Upon releasing her book, she was attacked by complete strangers who had only heard one side of the story and had drawn their own conclusion of her. They publicly left derogatory, slanderous, and false reviews of her book that had absolutely nothing to do with the book itself! Erika knew that sharing her story would receive some backlash, but she was determined to not allow the negativity of others to prevent her from sharing her side of the story. She persevered and stood on what she believed in and because of that her book was a success. She has been able to touch the lives of others by simply sharing her truth! With a new sense of empowerment, and a different approach to helping other individuals, she decided to write her second book in hopes that it too will benefit someone! Erika is a fun loving, caring, and all around quaint individual, she truly does things from the heart, and regardless of what someone may think of her she knows what her intentions are, and no one can make her second guess it! I hope that you enjoy your purchases! Thanks for your support it is greatly appreciated! Be Blessed! Be Bold! Be Driven! Be Inspired!
Testimonials
Very inspiring, motivating ! Such a good read..looking forward to the next!

Ms Fuqua
Power Packed Read that helps us to take a look at what success really is. Popularity doesn't equate Success and neither do likes or followers. Will look for more reads from this awesome and real author.

A. P.
A very encouraging & motivational read! Facing adversity can be hard, but it also puts you in a position that can help you to grow. Your purpose belongs to you! I enjoyed this book!

Adryan S.